America, we ALWAYS have service members putting their lives on the line for us, every hour of every day service men and women are in harms way or sacraficing hard work and time to protect the freedom and prosperity that we enjoy here at home and abroad.
It's Easy to Forget The Sacrafice
I'm the first one to admit, it is easy to forget that men and women of the armed forces are working tirelessly in the least, and sacraficing their lives and families future at the most, every day of the year, including holidays.
Show Our Veterans Support With Patriotic Pines!
Introducing Birds Eye View
Birds Eye View is a group of American Military Veterans who raise support for a host of organizations that support Our American Veterans. Birds Eye View has their own creative and fun approach to engaging wounded American veterans using extreme sports. Wounded soldiers and any soldier who has experienced combat has seen their adrenaline levels spike to a high that will be impossible to reach again. This distorts the running normal level of adrenaline and dopamine which contributes to the difficulites of re-entering normal (boring) American life. When we fund veterans helping veterans their needs are put first and efforts can be directed where they matter most. In the trenches with the vets.
Coming Home Is A Battle Some Soldiers Do Not Survive
American military members face a literal battle upon returning home. Wounded soldiers have to learn a new way of life coping with lossed limbs, head injuries, PTSD, combat memories, loss of loved ones in battle... and more. All soldiers have to adjust to the mundane aspect of family and community life, many soldiers have PTSD; many soliders succumb to the wounds of war after they get home.
Physical Reminder & Show of Veteran Support
Patriotic Pines is a reminder to us all, our family, our community, that right now there are men and woman fighting for us and working to protect us. Patriotic Pines stand out; they are red, white, and blue christmas trees with lights aglow. A generous portion of sales of Patriotic Pines goes to Birds Eye View, a group of veterans dedicated to supporting organizations that assist American Veterans.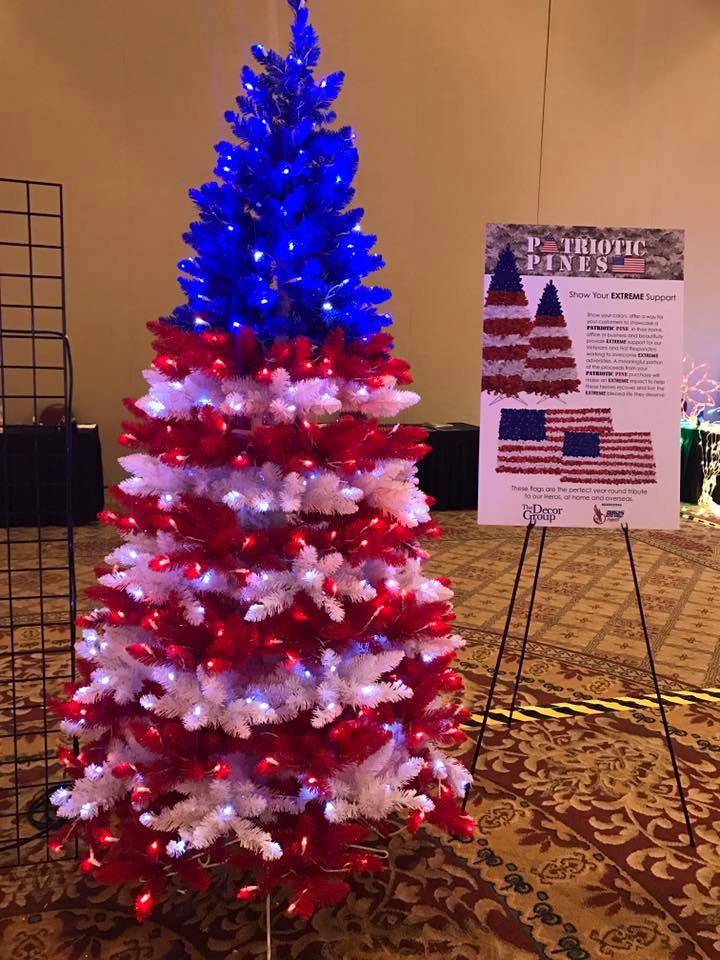 Soldiers are brave and tough, but they are still human beings. No matter how tough they are, when it is a holiday like Christmas when they would normally be waking up with their children and family but instead they're in a tent in a desert, in the bowels of a ship at sea, or working the mechanics of a jet all day with only a larger meal at the mess hall, they miss their families & friends. They are supporting ALL OF THE FAMILIES OF THE US and it's allies; let's show them support by supporting Patriotic Pines.
Birds Eye View is Fighting For Our Veterans and **We Can Help!**
Valley Lighting Group is honored to provide the Red, White, and blue pine trees by Patriotic Pines by Christmas Decor. Remind yourself and your community of the sacrafice being made daily for all of us while a generous portion of the proceeds of Patriotic Pines goes to support our American Veterans and the groups that support American Veterans.
Thank you, Patriotic Pines, Birds Eye View, and Christmas Decor for the opportunity to show our support for American service members at home and abroad.